Our Orchestra is back home after their much-acclaimed European tour, preparing to kick off both the Vikings' season and their own this week.  First, the MO will entertain the sold-out crowd of 66,200 football fans at the new stadium this Sunday, their largest audience ever!  Then they "kick off" their own season at Orchestra Hall next Thursday and Friday with Joshua Bell.  Could you have even imagined this scenario a few years ago?

Purple Reign:  Vikings Halftime Show Features Osmo Vänskä and the Minnesota Orchestra
When the Vikings play their first regular season game against the Packers in U.S. Bank Stadium on Sunday night, Osmo Vänskä. and 70 Minnesota Orchestra musicians will be performing at halftime on the 50-yard line. The exact program hasn't been revealed – only that it will include classical music selections and a tribute to Prince.
"The challenge we have now is to figure how we get there, where we need to be, and to get off, because we have two minutes to set up, and two minutes to clear the field so the teams can prepare for the second half," said CEO Kevin Smith in an interview with MPR. Osmo added:  "it's just going to be a total adventure."
Read more in this Star Tribune article.  The halftime show will not be broadcast; if you're going to the game, send us photos or a video.

Classical Season Kick-off: Osmo Vänskä and Superstar Violinist Joshua Bell
If you have tickets for the season opening events on Thursday September 22nd and Friday the 23rd, you're lucky – the concerts are sold out! Joshua Bell will be playing the Tchaikovsky Violin concerto; for a preview, check out the 
YouTube video on the website
.  Also featured on the program are Blur by Todd Levin, a big surprising percussion piece, and the heartwarming Brahms Symphony No. 2.
If you haven't yet made your reservations for the special opening celebration dinner (begins at

5:30pm

both Thursday and Friday), do it now.  Reservations deadline is

9:30am

Monday morning.
If you still need concert tickets, continue to check, as seats may be released up till concert time.
Joshua Bell says he has performed the Tchaikovsky concerto almost 1,000 times but that he's still discovering new sources of excitement in the piece – room for spontaneity and improvisation.  Read about why he wants to play it again and again and how his interpretation has changed over the years in this MinnPost interview which also includes Bell's comments on his famous undercover appearance as a busker in the Washington, DC Metro and the fascinating (and twisted) history of his nearly $4 million Gibson ex-Huberman Stradivarius.

Skol, Roderick!  Roderick Cox Named Minnesota Orchestra Associate Conductor
You may have watched Roderick Cox conducting the Orchestra at this summer's Symphony for the Cities concerts; if you see him at Orchestra Hall this season, don't hesitate to congratulate him on his new appointment.   Since joining the Minnesota Orchestra as Assistant Conductor in June, 2015, Roderick has been leading Young People's Concerts and Symphonic Adventures in area high schools, as well as conducting outdoor concerts and serving as cover (or understudy) conductor for many concerts.  This season, in addition to those concerts and guest appearances around the country, he'll make his Minnesota Orchestra classical subscription debut in three concerts January 19-21 leading Tchaikovsky's Symphony No. 4 and Rachmaninoff's Piano Concerto No. 2.
Despite his busy schedule, Roderick has been active in the community and in the Minnesota Orchestra's efforts to increase diversity on stage, as well as in audiences. He even seems to be becoming something of a teen idol; members of the increasingly diverse school audiences often comment that they're "happy to see a conductor who looks like me."
"The Minnesota Orchestra has become my second home, " Roderick says.   "… I've had great enjoyment working with the phenomenal musicians, devoted staff and passionate music director Osmo Vänskä.  I very much look forward to continuing our partnership as well as forming more relationships throughout the community."
Read more about Roderick's musical background and his comments in this recent 
Star Tribune article
 "Orchestras grapple with how to boost diversity."

Get your Tickets for Next "Home Game":  Vänskä Conducts Paulus Mass
Next up after the season opening 
this intriguing concert
 (
Thu Sep 29 at 11am
,
Fri Sep 30 and Sat Oct 1 at 8 pm
) features:
Mass for a Sacred Place by world-renowned Minnesota composer Stephen Paulus with the Minnesota Chorale.  The title of the Mass refers both to the Washington National Cathedral, the "sacred place" for which it was created, and to the sacred space within each person.  The late Stephen Paulus composed this and most of his many other works at his home on Summit Avenue.
Mass for a Sacred Place was commissioned by the Cathedral Choral Society of Washington DC to be performed in the National Cathedral.
Bach's Brandenburg Concerto No. 1
Kathy Kienzle as soloist in Argentinian composer Alberto Ginastera's Harp Concerto.  Read this interview with Kathy in which she talks about how she happened to study the harp, the challenges of the instrument and what she appreciates about the Ginastera concerto.  (Incidentally, Kathy premiered many of the harp accompaniments Paulus wrote for his beautiful Christmas carols.)
Prior to the concerts, poet and librettist Michael Dennis Browne and Patty Paulus will talk with OH+ host Philip Gainsay about Stephen Paulus's life and work. These conversations will be held in the Target Atrium

10:15-10:45am

Thursday and

7:15-7:45pm

Friday and Saturday.  Talks are free but a concert ticket is required for entry.
Nordic Domination:  Minnesota Orchestra's Triumphal European Tour
European music critics marveled at the remarkable comeback of the Minnesota Orchestra and issued mostly rave reviews after hearing their concerts, like this comment from the Guardian:  "that plush, supercharged Minnesota sound is back with a new edge of tenacity."  The Star Tribune summarized a number of European press reviews, including this one. We can only hope that the Vikings are similarly supercharged this year…
If you didn't have a chance to follow the posts by Minnesota Orchestra musicians and staff while the Orchestra was on tour in Europe, they're well worth reading now.  You can also browse through the photos and watch videos.  It's almost as exciting as being there.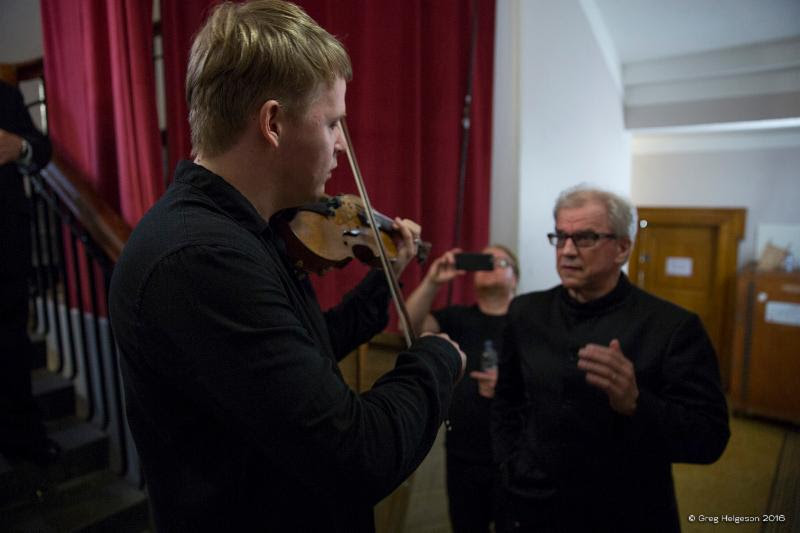 Skol to You, Passionate and Generous MO Fans!
Thank you for your tremendous support this past year, both in the hall and in donations!  And if you contributed to the recent year-end community fund drive for the Orchestra, additional thanks for that!   Final year-end totals won't be announced till December, but the community giving goal for fiscal 2015 was not only met but exceeded, thanks to more than 7,200 generous donors (1,000 of them new or returning).  We look forward to seeing you at Orchestra Hall for what promises to be the best season yet!  Skol, MO!
Kicking Off the Season: Vänskä, Vikings and the MN Orchestra